So lets get this right. I like stuff, I like things. Shopping at Value Village my hands become full withing 5 minuets. Each and every time I wonder why I didn't pick up that basket again at the front door. I'm the one who buys the things at Value Village that you see and ask yourself "who will buy this shit?". If I had nothing, then I'd have ..... um nothing........ Here is what I found recently. I didn't even spend 30$ on it... I swear! next time I'll include a photo of the bill. For this collection photo I unfortunately couldn't find my new green/gold aviators which were .99 and as well Tanya is borrowing this hot bangle I bought the same day. It was this dark marble red with a orange fish hand painted on. So hot... The bangle easily could of resold for at least 10$-20$ Yeah my total wasn't even 30$ It was a good day. I admit you don't usually get this much for 30$ I just gotta mention 30$ 1 more time.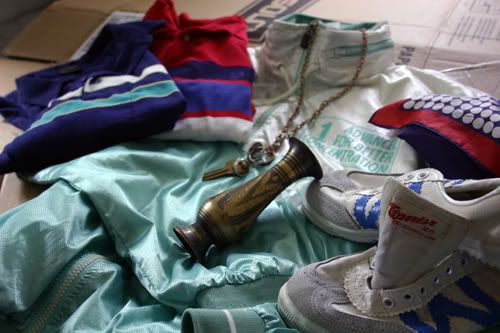 That same day but much later on in the evening I got inspired to make a tote sling bag. I needed cool fabric and I knew the XXXXXXXXXXXOXXL tshirts would be cheap in the mens section because you dont see many XXXL people here in Canada unless they are visiting from south of the border. Reading in the paper last week about pot smokers of the world you would think maybe we should be XXXL cause we rank #1 for the most consumption of marrawanna in comparison to EVERYWHERE else. I remember reading the world average % of population who smokes pot often was about 4%. British Columbia is at about 19%. yeah 2 digits! We do it even bigger then Tdot. That 'high' % along with some of the best a+ chefs & restaurants around you think we'd be chowing down all double ex elle like but luckily our downtown core is designed to promote a healthy pedestrian lifestyle. No wonder were voted #1 place to live in the FUCKING WORLD. But anyways back to my crafty cuts.
+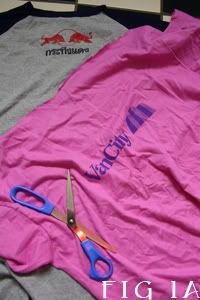 +
+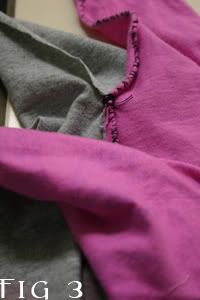 =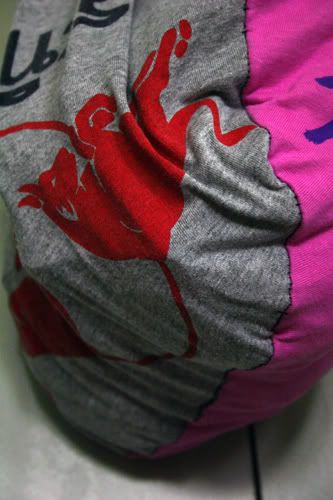 As you can see its not finished. I need to add on a strap and once that is done I want to double stitch it so you can put heavy things in it. Like a bunch of shit from Value Village. I still pray a sewing machine is on its way in the mail or at least one shows up at V V sometime soon. It would make this process a lot easier. Its taken me many hours to be about 3/4 finish. Reduce, Reuse, Reblaze, Recycle.