One thing we are extremely good at is drinking. Sunday afternoon was a lazy day until it was just to sunny out to keep laying on the living room floor. We went for a nice walk to the end of Commercial. Not thinking too clearly we decided to hit up Avantes (spelling?) Probably because it was the closest cheapest pub with a "patio". The patio is more like a smoking room with the window open with no view of the street. No people watching from the window. It Sucked.


There was this cool old man sitting behind Jared and he kept eating his mouth and looking around and at his scratch and wins. I couldn't help but watch.
The Not So Special Special was Budweiser. Bleh! Either way we like cheap. Then the window seats opened up.
After we finished our beers we were puzzled as to why we were sitting at this crappy pub and not sitting at home, which would be Zawa's.
We ordered another pitcher and Tanya wanted a cosmopolitan. Really badly.. I mean really badly.
It was now evening and we remembered about Big Brother. It started at 8 so we asked if we could watch it.
I love this season, But thats another post.
Here is our extended family portrait. We love Ben and Sam. Ben has a golden smile and Sam's haircut is fierce. I wish they could sit down and drink with us. We finished up our 4th jug of beer and headed home. Then we decided one more would put us in our happy place. So we came back. The last couple beers was enough. And then the Paparazzi came..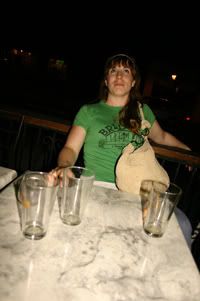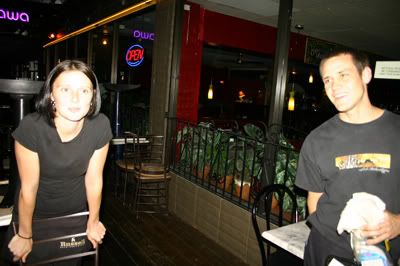 I apologize if we embarrassed you. Were use to making fools of ourselves, were not ashamed. :) So don't think we'll be straying away from our 2nd home anytime soon!
The walk home was rough.